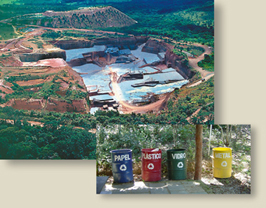 Preserving the environment is an effort we take very seriously at American Slate: After all, the very beauty of our products is earth-given. We run our business responsibly and strive constantly to reduce our carbon footprint. From coordinating logistics with our partners to ensure fuel-efficient delivery, to recycling pallets in our warehouses and paper in our offices, we are mindful at each of our locations that the small steps we take make a big difference. We even choose recyclable materials sourced from well-managed forests to produce our sales and marketing materials. Often, our partners restore depleted quarries by transforming them into fish-stocked lakes and, through the replanting of indigenous flora, restore natural habitats.
Eco-consciousness is key to our culture and identity. In addition, the decision to beautify your home with American Slate products (or choose to incorporate them into your building project) is an ecologically sound one.
Our 100 percent natural products create little waste and undergo minimal processing from mine to building site. Natural stone's longevity as a building material is legendary: Our products are durable enough to last for centuries.